Promotions - Budget Vacations - Hotel Viñas de Quierolo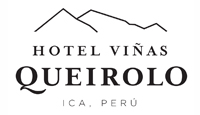 Hotel Viñas de Quierolo
03D/02N, Auto + Hotel en Ica

Having the opportunity to live a few days surrounded by vineyards, in contact with nature, learn and enjoy wines and piscos, is part of the Queirolo experience.
Located in the Ica Valley, at the foot of the Andes Mountain Range, surrounded by more than 500 hectares of vineyards where the vines used to make the Intipalka wines from the Santiago Queirolo Winery are grown. There you will find the VIÑAS QUEIROLO HOTEL.
Price per person

Grupo B: Kia Rio

US$ 191 - S/.651.31

Grupo K: Nissan Versa AT

US$ 217 - S/.739.97

Grupo F: Toyota Rav4 AWD

US$ 290 - S/.988.90
Includes
03 días de alquiler de vehículoUnlimited Mileage.02 noches de alojamiento en Habitación Matrimonial JuniorWelcome DrinkDesayuno en Restaurante Las ViñasVisita al viñedo acompañado de nuestra Sommelier quien explicará los diferentes tipos de uvas utilizadas en nuestros vinos y piscos.Visita opcional al Mirador de las Viñas desde donde se podrá observar todo el valle.
Terms & Conditions
Promoción válida hasta el 15/12/2019.
Tipo de Cambio Referencial: 3.41. Se empleará el tipo de cambio vigente a la fecha del viaje.
Puede no ser aplicable en Semana Santa, Fiestas Patrias, feriados y feriados largos.
Paquete prepagado sujeto a confirmación de disponibilidad del vehículo y la habitación.
Las políticas de reembolso varían según cada hospedaje, por favor consultar condiciones de cancelación.
Precio en función a Habitación Matrimonial Junior mínimo 2 personas para acceder a la promoción.
Consultar por otras opciones de vehículos y/o habitación.
Recojo del auto desde el Aeropuerto está sujeto a Tasa Aeroportuaria 15% sobre tarifa del Paquete.
No aplicable en conjunto con otras promociones.
Sujeto a cambio sin previo aviso.
Please contact me